Smart Clamp
Don't Re-Torque…Replace with the Smart Clamp
A system begins to fail when a gasket begins to leak. The traditional answer is to tighten the clamp to eliminate the leak. You believe you are fixing the problem, but in reality, you are creating a greater problem. Watch this short video to see how the Smart Clamp can solve that problem!
The "HALF-TURN" Sanitary Smart Clamp™
From "Up-time" to Ergonomics
Dramatically increased up-time
Perfect Surface I.D.
Half-Turn installation
Repetitive stress/ergonomic benefits
Compression control
Multiple compression settings
Guaranteed gasket alignment
Deeper clamp channel nests ferrules  and evenly distributes force on the gasket
Threadless system prevents soil and bacterial entrapment
Clamp hinge will not collapse
User-friendly
No tools needed
The Ergonomic design and "Half-Turn" installation decrease working conditions that are known to result in Repetitive Stress Injury (RSI)
Common examples of RSI are:
Carpal Tunnel Syndrome
Tendinitis
Bursitis
Tennis Elbow
Trigger Finger
DO NOT SUBMERSE OR CLEAN THE SMART CLAMP™ WITH BLEACH
BLEACH IS KNOWN TO BE HIGHLY CORROSIVE TO STAINLESS STEEL
SUBMERSING SMART CLAMPS CAN INTERFERE WITH THE INTERNAL MECHANISM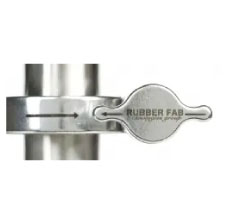 Easy Adjust Dial Settings
For most gaskets, a Smart Clamp setting of 2 is sufficient to seal but if more torque is desired, increase the setting and re-tighten.
Does Not Collapse Backward
Visual Indicator lets you know the Smart Clamp™ is fully engaged and installed when arrows are aligned!
| Size | Part Number |
| --- | --- |
| 1 & 1-1/2″ | SMARTCLAMP-100/150 |
| 2″ | SMARTCLAMP-200 |
| 2-1/2″ | SMARTCLAMP-250 |
| 3″ | SMARTCLAMP-300 |
| 4″ | SMARTCLAMP-400 |
Fittings
Sanitary Gaskets