SSHT Hose
The SSHT hose is a flexible braided metal hose that is a great vibration absorber
PTFE Lined Stainless Steel Corrugated Hose
TUBE: Seamless PTFE
COVER: Braided stainless steel
TEMPERATURE: -20°F to 350°F
| Part Number | Hose ID Inch | Hose OD Inch | Bend Radius Inch | Max. Working Pressure @70°F (21°C) PSIG | Vacuum Rating @70°F (21°C) in. Hg. | Weight Flanged Assy 1ft | Weight Per Additional ft |
| --- | --- | --- | --- | --- | --- | --- | --- |
| 16RFSSHT | 0.88 | 1.59 | 12 | 750 | 29 | 3.53 | 1.03 |
| 24RFSSHT | 1.38 | 2.27 | 15 | 565 | 29 | 5.79 | 1.96 |
| 32RFSSHT | 1.87 | 2.91 | 21 | 500 | 29 | 9.49 | 2.67 |
| 48RFSSHT | 2.79 | 3.69 | 28 | 288 | 29 | 14.44 | 2.64 |
| 64RFSSHT* | 3.76 | 4.84 | 46 | 250 | 20 | 21.57 | 3.17 |
| 96RFSSHT* | 5.68 | 7.16 | 65 | 175 | 22 | 39.94 | 6.74 |
| 128RFSSHT* | 7.71 | 9.31 | 89 | 212 | 20 | 62.50 | 9.50 |
*Available in 150# flange style only. Lengths longer than 10 feet, we do not deduct for fittings, making the hose longer than ordered. Please keep that in mind when ordering.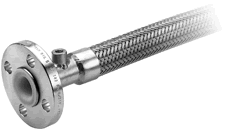 Shown with optional 1/8″ vent port accessory
Disclaimer: The information provided within by Rubber Fab is deemed to be accurate; however, it should be used only as a general reference to aid in product selection and application.
Note: A material's properties may be affected greatly by temperature, operating pressure, concentration, and the presence of other chemicals. Ultimately, the consumer/user must determine the compatibility of any material based on tests done under particular process conditions.
How to Order
Fittings
Accessories